Land Rover Discovery Sport Updated For 2020 Model Year Unit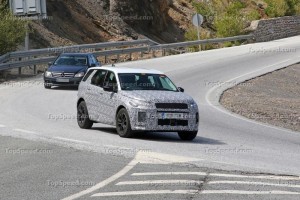 Land Rover is working on the next-generation Discovery Sport, which we expect to arrive a couple of years from now. While waiting, we are treated to a facelifted version of the current-generation Discovery Sport, which will pave way for the new generation model.
The prototype in the spy shots was wrapped heavily in camouflage but there were enough details to hint of changes made to the updated Discovery Sport.
Exterior
There are quite a few changes on the front of the updated Discovery Sport. Based on the test mule, there's going to be a new look for the front fascia and a new grille. Right now, we can't really say for sure how all these elements will look after the camouflage has been taken off. We can see that there's a change in the lighting fixture through two horizontal LEDs at the bottom. The current-generation Discovery Sport doesn't have those.
The profile looks similar to the one we have now, but the rear side will have no cutouts and there seems to be a pair of exhaust outlets on one side. Of course, since this is a "hybrid" test mule (as seen on a yellow sticker on the windshield), the lack of cutouts is expected.
Interior
The current-generation Discovery Sport has one of the most pristine cabins in the SUV segment, so we don't expect much to change here since this is only an updated model. Coming standard, though, to the updated Discovery sports is a lot of "options" for the current generation. These luxurious features are the twin-needle-stitched leather, genuine metal interior trim, configurable mood lighting, and multi-zone climate control, among others.
Space will not be an issue because the updated Discovery Sport will sit on Land Rover's version of the D8 platform. Not only will the ride be more comfortable, but there is also extra cargo space and enough room underneath to store the lithium-ion batteries for the hybrid version.
Drivetrain
The most important update will be the inclusion of a plug-in hybrid version. It will use the same 2.0-liter four-cylinder Ingenium engine that Land Rover began using on the model in 2015. The use of the Ingenium engine makes sense because it is so versatile it can come in gas or diesel variants and can be reconfigured to accommodate three-, five-, or six-cylinder options. It can also produce as little as 150 horsepower or as much as 240 horsepower.