LAPD To Use 100 BMW i3 EVs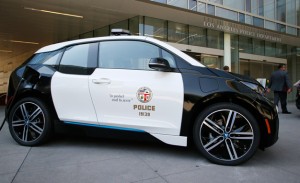 What could possibly make the Los Angeles Police Department even more glamorous than it already is? You know, protecting the rich and famous of Hollywood is also a lot about having the right machinery, and by hooking up with BMW to get the i3 EVs, LAPD just purchased the perfect partner.
And what can top having a BMW for a police fleet? Having an electrically charged BMW. LAPD is even answering to the United Nations' great call of reducing carbon dioxide emission, and using electric cars instead of gasoline-powered ones.
BMW's i3 will be LAPD's first electric vehicle. The German brand beat out Tesla for the opportunity to roam the streets of Los Angeles. Now, LA residents can enjoy seeing the cute little i3 on the road.
The purchase of the i3 is part of LA's initiative to convert 80 percent of all its municipal vehicles into electrically powered ones by 2025. And since this is the police department's first EV, the purchase also includes 100 Level 2 chargers and four DC fast chargers. This will ensure that the i3s are charged up and won't be missing power while on the road.
The i3s won't be used for emergency calls, though. Neither will it be used to hunt down and run after perpetrators. The BMW i3 EVs will essentially be used for non-emergency calls for now. Although, who knows in the future how BMW will plan to upgrade the vehicle?
LAPD's primary problem with the i3s' capacity to respond to 911 calls is their need to be plugged in overnight to recharge. Emergency calls, of course, can happen even in the middle of the night.
So for now, emergency calls and running after suspects in LAPD would remain to be a job for the Ford Crown Victoria that may or may not be equipped with the Ford Police Interceptor utilities. There are also a couple of other sedans and Chargers from Dodge.
Source: Car And Driver