Lexus LC 500 and LC 500 Hybrid to Debut At NY Auto Show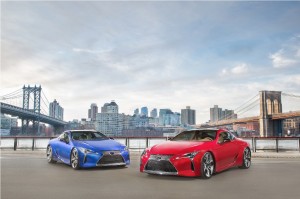 Lexus is gearing up for the showdown of some of its 21 models at the 2016 New York Auto Show, which will be held on March 25 until April 3 at the Jacob K. Javits Convention Center in Manhattan. But apart from the 21 Lexus models to make its feature, the company will also be unveiling the all-new LC 500 and its hybrid counterpart.
The new luxury LC coupe was revealed in January at the North American International Auto Show in Detroit while the LC 500 Hybrid made known its appearance just this March at the Geneva Motor Show.
The NY Auto Show will mark the hybrid's first North American debut, as well as its first appearance with the Lexus LC 500.
The LC lineup basically presents a new paradigm in Lexus' engineering processes and design direction. It also marks a new beginning for the brand that aims to be recognized for its aesthetics appeal and engineering performance.
The Lexus LC 500 has a newly developed 10-speed automatic transmission, the first ever in a luxury vehicle. This is also the first Lexus to use the all-new, premium rear-wheel drive luxury platform, which promised enhanced performance. Inside, it has a cockpit-elegant inspired layout that is reminiscent of a sports car.
The hybrid car, on the other hand, uses the world's first Multi Stage Hybrid System, which is the next generation hybrid powertrain designed for performance automobiles. The system can manage to align speed, power and fuel consumption all at the same time. It has the "M" mode too, which promised to give drivers the experience of driving responsive gear shifts.
Furthermore, Lexus is expected to showcase its 2016 GS F, the 2016 Lexus RX, as well as the GS F and RC F "360 Virtual Reality Experience," which would allow the show's attendees to experience driving these cars on a professional race track.