Lexus UX Concept Pioneers 3D Driving Experience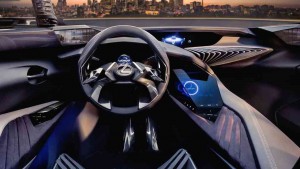 The Lexus UX Concept will make its world debut at the 2016 Paris Motor Show, and it is charged to showcase Lexus' vision of a compact SUV for the future. The vehicle will apparently represent the company's new approach in designing and in providing an exceptional driving experience.
The UX concept has a bold and imaginative approach to designing and technologies. It aims to provide customers an immersive driving experience, thanks to the on-board HMI technology that has been designed to offer an "innovative, three-dimensional driver experience."
The instrument binnacle of the driver has a transparent, hologram-like globe that houses a combination of analog and digital information. The binnacle is both functional and has an unexpected user interface. The center console, on the other hand, features that prominent and faceted crystal structure. Within that, you can find a hologram-style display of air-conditioning and infotainment system that is clearly visible both to the driver and the front passenger.
The new UX concept will also showcase the latest advanced in-vehicle electrical technologies, which include electro-chromatic windows and electrostatic switchgear that is housed under transparent covers. The sideview mirrors have been replaced with e-mirror camera housings. These are far slimmer than the conventional mirror housings on current vehicles.
Drivers may also expect a new audio experience from cars using the UX Concept thanks to the fin motif on the dashboard, the same one that was used on the A pillar. In fact, a removable sound bar was even built into the passenger side of the dashboard, so that everyone can enjoy a one-of-a-kind audio experience.
Stephen Rasmussen, designer at the European Design Centre, ED2, said that the Lexus' goal is to create a new genre of compact crossover. They want a vehicle that can create an innovative and 3D experience for the user.