Looking Closely at the 3 Main Features of the ABT Sportsline Audi R8 V10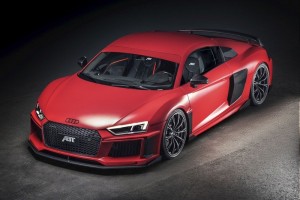 ABT Sportsline will be highlighting its new tuning package for the Audi R8 at the 87th Geneva Motor Show. The package offers a significant power boost and extensive cosmetic enhancements for the car.
1. Engine
The ABT Sportsline tuning kit gives the naturally-aspirated 5.2-liter V10 engine of the Audi R8 an output of up to 630 hp. The figures show a 20 hp increase from the power produced by the unit of the Audi R8 V10 Plus.
There's no information yet about the overall torque of the car with the tuning upgrade but it is estimated to be somewhere along 420 lb-ft. The numbers indicate only a 7 lb-ft bump from the torque of the R8 V10 Plus.
The ABT Sportsline package lowers the car's center of gravity by using coilover suspension springs and sports stabilizers for the front and rear axles of the auto. The changes bring about a reduction in the weight of the R8.
Taking the abovementioned factors into consideration, the resulting sprint of the vehicle from zero to 62 mph is approximately 3 seconds. Its top speed is also increased to reach around 207 mph.
2. Body
Improvements in the exterior of the R8 are extensive. The changes include the installation of new lip spoilers, bumpers, rear diffuser and wheels. Buyers can choose between a set of 19-inch and 20-inch black forged alloy wheels.
3. Interior
Going inside the ABT Sportsline Audi R8 V10 will reveal no shortage of upgrades as well. The in-house customization division of the tuner provides the car a taste of luxury, comfort and sportiness thanks to its use of high-quality leather and carbon fiber materials for its surfaces such as in the seats, dashboard, floormats and ceiling.
Photos of the ABT Sportsline Audi R8 V10
Check out the pictures of the Audi R8 V10 with the ABT Sportsline package in the gallery below: