Lotus Evora Sport 410 Gives Ferrari F50 A Run For Its Money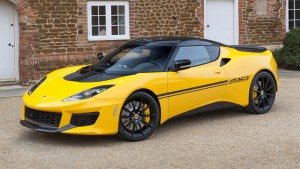 Lotus made a special edition of its Evora Sport 410 that has supposedly become faster than the Ferrari F50. This special edition is based on the latest 400, but focuses on giving it more power and less weight.
As a result, the Lotus Evora Sport 410 will provide more power and stronger performance at a top speed of 186 mph with a 0-60 mph in 3.9 seconds. This is 0.3 second quicker than the 400 edition, and is at par with the Ferrari F50.
According to TopGear, the special edition 410 packs a supercharged 3.5-litre V6 engine—output rising to 404 horsepower—with the extra 10bhp. On top of this super machine, the Lotus Evora Sport 410 will only be 1,325 kilos, 70 kilograms lighter than the previous edition.
The weight would take it on the level of the Ford Focus, but this means Lotus had to trim some features such as the arm rests, storage bins and speakers. It's also mainly made of lightweight carbon trim, including the boot lid.
The Evora Sport 410 can handle recalibrated suspension, which was dropped at 5mm compared to the Evora 400. Imagine combining it with Evora's sharp dynamic elements such as its limited-slip differential, Michelin Cup tires, and multi-stage stability control, and you've got a supercar in your midst.
This and the Porsche Cayman GT4 is on the same wavelength, but the Evora Sport 410 promises to be more powerful and easier to handle because of the lightweight materials used to produce it.
And although it packs less features than the 400, so that it can be lighter and more powerful, the price remained at £79,995. This is 8,000 more expensive than the Evora 400. If you want to get your hands on the 410, you have to order quickly since only 150 cars will be mass produced.