Luxury meets Sensibility, Cadillac Style!
Does the teeming traffic in populous cities get to you?  Has manoeuvring through crowded streets become a constant headache?  Do the highly congested parking spaces infuriate you? The Cadillac Urban Luxury Concept has been designed as an antidote to all these modern day curses.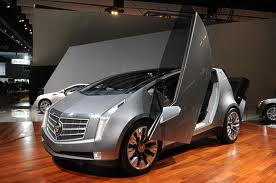 At first sight, Cadillac's Urban Luxury Concept makes you do a double-take. Yes, the trademark Cadillac grill boldly adorns the front but where is the typical Cadillac-ish ludicrous spaciousness and flamboyant style? Well, all of Cadillac's signature magnanimity has been condensed into its hybrid Urban Luxury Concept, the first step towards Cadillac's foray into its downsized future.
What meets the eye is a cutting edge style replete with sweeping body lines, two sleek scissor doors, a hatchback and an upright stance. Its scissor doors open up to an edgy interior done up in striking colours and accessorized with capacitive touchscreens and projected readouts. So with the orthodox knobs and buttons out of the way, the Cadillac Urban Luxury Concept is spacious, which also is due to the twin skylight! The Cadillac bosses have powered up their Urban Luxury Concept with a small turbocharged engine with electric assist that boasts a fairly decent mileage of 56mpg in the city and 65mpg on highways.
The small car concept is red hot in today's market and Cadillac's involvement definitely ups the ante in a fascinating way. The Press Release of its Urban Luxury Concept stated that its latest design offered "luxury experience in a diminutive size".  So Cadillac, a name synonymous with luxury, is not only shifting its focus to the small car concept but also jazzing it up with its luxurious credentials. And if this combination works, then Cadillac may have redefined the parameters of luxury as we know it.