Mazda 6 Bids Goodbye To Manual Transmission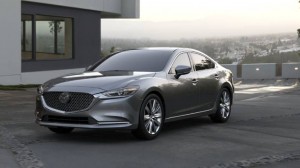 Mazda just ended the manual transmission's life from its 2019 Mazda 6 mid-size sedan. This move leaves the new Mazda 3 (hatchback) and the MX-5 Miata as the only models that the Japanese brand is offering with a manual gearbox.
Mazda's move to eliminate the manual transmission variant for the Mazda 6 pushed the starting price to $24,720, marking an increase of $1,875. Before Mazda's decision to ax the manual transmission option, the Mazda 6 Sport trim could be bought for just $22,845. It's safe to say that new safety features also pulled up the model's base trim price.
The safety features were all optional equipment in the previous model of the Mazda 6. Taking those now standard equipment into account, the base price only increased by $200 from a manual transmission to an automatic transmission. On the 2018 models, the automatic transmission cost an additional $1,025 and Mazda's suite of active safety equipment is another $625. Also standard are the rain-sensing wipers and Mazda's G-Vectoring Control Plus handling system.
For those who want the manual transmission in a mid-size sedan though, you can still get the Honda Accord instead. Honda still offers a six-speed manual transmission for its Accord. Another option is a 10-speed automatic or CVT.
Fret not, though, because the manual gearbox may not exactly be gone for good in Mazda's plans for the future. According to a report from Motor Authority, Mazda spokesperson Tim Olson said the manual transmission could return so long as buyers voice out their opinions about it.
"We will continue to listen to our fans and if their desires should change in the future we will respond accordingly," he said.
Olson explained that the demand for manual transmission has fallen since the Japanese brand introduced more luxurious trim levels such as the Grand Touring Reserve and Signature.