Mazda CX-9 All Set to Conquer the Roads in 2016
In the vehicle world, some times one is not enough. In fact, even two is not enough. Some times, too many do the trick, which, actually sounds really great. After all, everyone who watches the motor world closely is always waiting for as many new entries as possible. It won't be an exaggeration to say that their calendars are all marked according to when a certain favorite is going to hit the road, what are its variants and what it is priced at. It is so thrilling to just wait with a bated breath when one after the other, thrill rolls your way. But what would you say if a company is on a new car spree? What company exactly are we talking about, you must be wondering. Well, it is none other than Mazda that is ready with not one or two but five brand new creations that are going to be out soon. Among them is the upcoming Mazda CX-9 2016 that has already seen two redesign phases and is now going to take just some more time to come your way.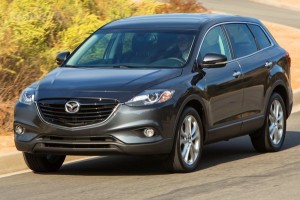 What is it about the upcoming Mazda CX-9 2016 that has gotten people so interested? Well, it is like serving a familiar dish to them only with more garnishing. So whatever little we know about this one, we are producing it right here. It is mainly targeted at the US market and while it may disappoint many, it is not as if other countries won't ever get to savor its magic. But exactly how long that will take is hard to tell. The new creation by Mazda, it is said is going to be fixed with a changed and more evolved drive unit. This is just about it however, for there is very little known about the exteriors of the upcoming Mazda CX-9 2016. There is definitely more light that we can throw on the engine of this new magic machine. It is said that while currently the model running on the roads is fixed with Ford V6 engine, this one is going to give that a miss. There is definitely a chance that the six-cylinder engine is going to find place in place of the four-cylinder turbo petrol engine.
What we have also heard is that it will have impressive fuel efficiency, something that many people consider and expect from a car of this age and time. After all, when there are new generation engines, it is only normal that there will come a certain level of fuel economy with them, certainly more than what is available with the engines that are already there. There is some more news on the new Mazda CX-9 SUV. So, news has it that there will be a variant of the same that will have the V6 engine at the core. It could be a diesel one, something that has never happened before. Which is what makes Mazda CX-9 worth waiting for.