Mazda MX-5 Debuts with a Hard-Top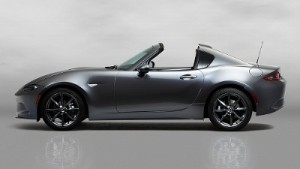 Everyone who's been waiting for Mazda's idea of a hard-top convertible can rest their cases. The company just lifted the curtains off its new Mazda MX-5 "Retractable Fastback," named in honor of its new roofing system.
This is the fourth generation Mazda MX-5 with a 911 Targa-style top, which would lift at the push of a button. The roof folds automatically into the rear at a speed of up to 6mph. And you don't even have to worry that the folded up roof will take up some boot space at the rear. This is not the case with the MX-5 RF. It basically offers the same space as the soft-top MX-5.
But that's not the only thing you should look out for the Mazda MX-5 RF. It also has a unique rear roof and retractable back window that offers a new open-air feeling.
The new model will feature either of the two engines namely the SKYACTIV-G 1.5 or SKYACTIV-G 2.0 gasoline engine, depending on the market. The model coming to US shores will have the SKYACTIV-G 2.0.
The convertible would also come packed with a six-speed automatic transmission. There's no word yet on how much this would weigh, but it is estimated to be somewhere over the standard car's 1,075 kilograms figure.
The Mazda MX-5 RF is being offered also in the new Machine Grey paint. It uses three coats but requires further details, which we don't have at the moment since Mazda has yet to release full specifications for the MX-5 RF.
This new hard-top Mazda will make its world debut at the 2016 New York Auto Show, which will be open to the public from March 25 to April 3. Mazda is also expected to launch the Mazda CX-9, and feature current available models such as the Mazda 6, Mazda 3, Mazda CX-5, Mazda CX-3 and Mazda MX-5.