Mazda To Debut MX-5 Miata Power Retractable Hard Top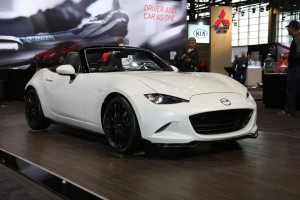 Sources have been abuzz that Mazda will introduce during the New York Auto Show later this month a Power Retractable Hard Top version of its MX-5 Miata.
Mazda has confirmed already that there are plans to unveil a new model during the auto show, but no details have been released regarding the said launch. What the company did say is that it would be a "world premiere" and that the car will "blow the lid off."
With such a description, it may be safe to assume that a retractable hard top is on its way for the MX-5 Miata, currently in its fourth generation and is only available as a soft-top convertible.
This was quite a curious move for Mazda since other models have already offered both a soft-top and hard-top retractable roof. There was even one with a fixed roof.
To say that the company is simply bowing down to measure is quite an understatement. It has a valid, logical reason as to why it would introduce a retractable hard top. Since its introduction back in 2007, the variants with the PRHT have created huge following in the Miata family.
Mazda said that the hard top variant would be lighter than the ones fitted on previous models. This would, of course, help in the speed and power of the Miata. It would also provide a more compact look, and would free up extra cargo capacity.
Although the top would most likely add a bit of a weight to the roadster, this would still be popular for people living in the colder part of the world.
Under the hood, the same would probably be found in the MX-5 Miata—a 2.0-liter four-cylinder engine at 155 horsepower and 148 lb-ft of torque. Buyers can choose between a standard six-speed manual transmission and an optional six-speed automatic unit.
More details would be revealed at the New York Auto Show, so stay tuned.