Mazda3 Skyactiv-X Compression-Ignition Tech Ready For Frankfurt Show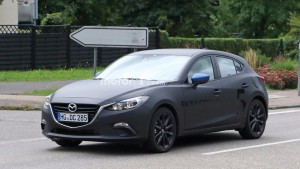 The creme de la creme of the auto industry will gather this September at the Frankfurt Motor Show. Together with the debut of new models and limited editions from Ford, Toyota, Mercedes-Benz, BMW, and many others come Mazda's new Skyactiv-X Compression-Ignition Technology.
Mazda plans to debut the new technology at the Frankfurt show but it already began testing the compression-ignition driveway on the road. Spy photos of the new Mazda3 were seen last week. But what separates these prototypes from all the others is the very obvious Skyactiv-X graphics.
The photos showed a pre-refresh Mazda3, but the "Skyactiv-X" script can clearly be seen sprawled along the doors. Towards the rear fender, there's a large "5" sign on it, which could mean that there are more prototypes being tested out there.
Though we don't have many information yet about the next-generation Mazda3, it is more than likely that it will mirror the current version since Skyactiv-X is set to debut along with the new Mazda3.
What's interesting about the Skyactiv-X is that it utilizes a mixture of spark and compression ignition that will reduce carbon emissions and improve the fuel efficiency of the engine. There's also a supercharger, which can increase the torque output.
The Japanese carmaker has yet to give details on how many cylinders this new engine will have, but the next-generation Mazda3 is looking at being powered by a four-cylinder. We know that Mazda is already planning to electrify its lineup in select regions, so it is not impossible to see a hybrid or all-electric version of the Mazda3 by 2019.
The Skyactiv-X engine tech will debut at the Frankfurt Motor Show this month, when more and new details about the next-generation Mazda3 will hopefully emerge.