Mazda6 Finally Gets Apple CarPlay And Android Auto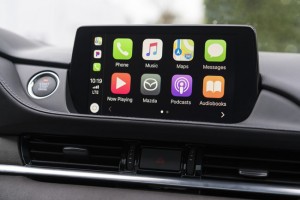 How annoying is it that Mazda6 owners will only get to enjoy the latest in technology today? For years, Mazda fans have been cajoling the brand to pre-install Apple CarPlay and Android Auto in their cars. At the New York Auto Show last March, the Japanese company announced their plans to add Apple CarPlay and Android Auto support to the latest Mazda6.
Today, Mazda announced that the two smartphone support systems will be available nationwide to Mazda6 owners starting in September. But to those who have already purchased the 2018 Mazda6, the support would have to be installed in September. Those who will buy the car will get theirs pre-installed.
Those who own a Mazda6 other than the base Sport trim, Apply CarPlay and Android Auto will be available as a no-cost, dealer-installed upgrade. All you have to do is bring your cars to the local dealerships and they should install a more powerful 2.1-amp USB port. This will also reduce the charging time.
The installation will take two hours, no more than the time you allow for the car's regular maintenance checkup. But starting November, the Mazda6 will come with both phone-mirroring systems pre-installed.
The interior of the refreshed Mazda6 Signature is very impressive, and car enthusiasts have raved about the luxury, comfort, and elegance of the car's cabin. But when it comes to the infotainment system, Mazda leaves nothing to be desired. The lack of Apple CarPlay and Android Auto makes the car feel ancient. It is a big disappointment to Mazda fans everywhere.
Even if Mazda did not choose to pre-install the systems, they should at least be offered as an option. This update finally fixes that issue though sadly, Mazda6 is the only car in the automaker's lineup scheduled to receive it. All the other cars will remain lacking Apple CarPlay and Android Auto.