McLaren Introduces 570S Sprint To Its Sports Series Range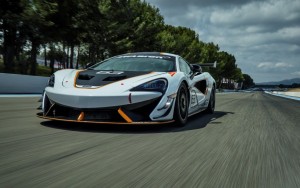 Has it only been a year since McLaren introduced its first Sports Series model called the 570S? Well, McLaren Sports Series' entry-level range is now almost ready to compete with the much pricier Super Series with its 570S Sprint.
This year, we've seen the debut of the more practical 570GT and the competition-ready 570 GT4 racer. As if those aren't enough, we are now witnessing McLaren come up with the 570S Sprint, the badge the automaker puts on cars designed strictly for track use but is not as intimidating as proper race cars or the hardcore GTR cars.
For its powertrain, McLaren has fitted the 570S Sprint with the familiar twin-turbocharged 3.8-liter V-8. The automaker said the output was "optimized," hinting that we could expect more than the 570S' 562 horsepower.
There are other upgrades, of course, such as the oil and cooling systems designed especially for the track, a wide splitter up front, canards on the bumper, center-locking magnesium wheels show with Pirelli racing slicks, a fixed rear wing, and an available air jack.
Inside, the 570S Sprint boasts of an FIA-spec roll cage and racing seats with harnesses. For safety, there's also a fire extinguisher system installed.
The 570S will make its formal debut on June 24 at the 2016 Goodwood Festival of Speed in the United Kingdom. Pricing for that starts at £148,000 or $217,680 at current exchange rate. Deliveries will begin in 2017.
The 570S Sprint is not exactly something you can get off the dealer that quickly. According to reports, the Sprint will come as standard in McLaren Orange, although buyers can get the McLaren Special Operations department to create the same liveries as the Sprint.
If customers want a feel of the racing world, they can have the Sprint upgraded to 570S GT4 racecar. The package will include all requirements of the FIA standards for GT4 competition.