Meet the Sporty and Stylish – 2015 Mazda CX 5
Let's start this with a riddle, shall we? So, the hottie we are talking about is not new to you. Well not entirely. For all you car lovers would already know, this one is easily into the third phenomenal year of being around and fascinating the crowd. It can rightly be included among the most popular and sough-after compact crossover SUVs to have come our way recently. There have been some very impressive reviews by industry experts, too! Guess you got it right! It is the very 2015 Mazda CX 5 we are talking about. It is about to take the market in its stride and it is great to know it a little better before all that happens!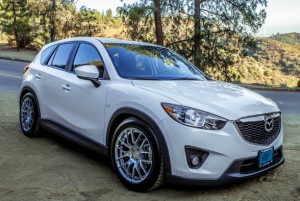 So, in a market where Honda CR-V and Toyota RAV4 have sale-volume to their name, many are doubting if the upcoming 2015 Mazda CX 5  has any chance at all. One thing is for sure, all these people with these speculations haven't really seen this one yet! The company is sending our way three trims, which are called sport, touring and grand touring. We have hears that all three are going to come equipped with AWD.
For who could really not be bowled over by the sturdy sporty look and the neat instrument panel that this beauty flaunts so fantastically. Add to all these merits the stupendous average of 35 miles per gallon and you know you have a winner, already. Really, is there any other machine that can beat these features? We highly doubt that! And we have kept one point under our hat. It comes with a choice of a manual transmission, too! However, that is only available in the front-drive Sport trim. But still, we all know that it is such a unique feature for a crossover to have that it is sure to limit the number of contenders for this Mazda offering.
So the sporty look, fuel efficiency and manual transmission was one thing, the upcoming 2015 Mazda CX 5 has other feathers to its cap. Don't believe us? Hear us out. It also boasts of a keyless entry feature, which has already appealed to so many car lovers out there. Although its 2.0 litre engine is drawing some flak and puckered brows from the industry experts, that is one thing that we can overlook! Especially, because the Touring and the Grand Touring trims come with 2.5 litre SKYACTIV engine! Yes, these two variants are certainly more rocking and are built to fit into our speedy imaginations!
So major highlights of the upcoming 2015 Mazda CX 5 lined up for your kind attention – the word is out that it is already loved for its affordability. That, of course, tops the list and then comes the pleasure of driving. Some are going to the extent of calling it an absolutely smooth and fun-filled experience. We already discussed the fuel economy and the sleek look! Now all that we need is this stunner 2015 Mazda CX 5 out on the roads!