Mercedes-AMG C43 Coupe Finally Arrives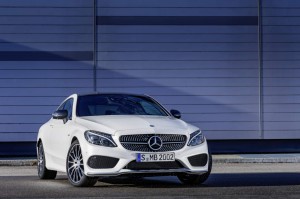 The Mercedes-AMG C43 Coupe is back 19 years after it introduced the second AMG-tuned C-class that brought the V8 flag with 306 bhp 4.3-litre V8. It can go 0-60 mph in 5.7 seconds.
However, that was in 1997. This year, Mercedes comes back with the C43 badge, featuring a warmed-over C-Class Coupe that is second fiddle to the full-fat C63.
Officially called the Mercedes-AMG C43 4MATIC Coupe, this super machine uses a 3.0-litre twin-turbo V6 that can produce 362 bhp and 384 lb-ft of torque through a nine-speed automatic transmission. Its four-wheel drive runs 0-62 mph in 4.7 seconds, just 0.8 seconds slower than the 503 bhp C63 S Coupe, with a top speed of 155 mph.
The Mercedes-AMG C43 4MATIC Coupe shares its engine with the Mercedes GLE450 AMG Coupe, but is still boasts of a distinct individuality as it was imbued full Mercedes-AMG status.
It might not be the C63, but it can definitely handle itself well.
The 4MATIC all-wheel drive system has a rear-biased 31:69 torque distribution, three-stage adaptive dampers like the C63's, and "Dynamic Select" drive modes such as Comfort, Sport, Sport Plus and Individual.
Expect the front axle to have new steering knuckles with the brakes at a bigger 360mm at the front and 320mm at the rear. This is significantly a step up from the standard C-Class Coupe.
Outside, the "C63-lite" badge is replaced with the "BITURBO-4MATIC" lettering on the flanks. The bodywork, on the other hand, is pimped with exhaust pipes and boot lip spoiler.
The C43 will start to drop in early April with an estimated price of £47,000, which is £20,000 cheaper than its brother. For those who are willing and able to shell out that much money, April is your chance to do so.
2017 Mercedes-AMG C43 4MATIC Coupe Photos
Check out some photos of the 2017 Mercedes-AMG C43 4MATIC Coupe in the gallery below, which were provided by Daimler: