Mercedes-Benz EQC Electric Crossover Unveiled in Stockholm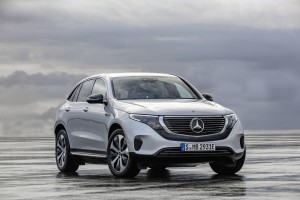 The Mercedes-Benz EQC is out as its maker just unveiled the electric crossover in its EQC400 4MATIC guise. The launch of the first fully-electric vehicle from the Mercedes EQ sub-brand happened on September 4, 2018, in Stockholm, Germany.
According to Daimler, the Mercedes-Benz EQC400 4MATIC will go on sale in the US in 2020. So what makes it very special? Here's a rundown of the key features of the EQC EV:
Powertrain
The Mercedes-Benz EQC400 4MATIC is powered by two asynchronous electric motors. The units have a combined output of 402 hp and 564 lb-ft of torque going to all four wheels. The top speed of the EV is electronically limited to 112 mph, and it can accelerate from a standstill to 60 mph in just 4.9 seconds.
The EQC400 4MATIC has an electric range of 200 miles at full charge. That's 100 miles less than the promised range of its concept.
The lithium-ion battery of the EV can store up to 80 kWh. Using a DC fast charger, Mercedes claimed that it only takes 40 minutes to juice up the power of the battery pack from 10 to 80 percent.
Styling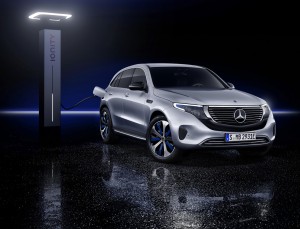 The Mercedes-Benz EQC is classified as a crossover SUV. Shades of the Mercedes-Benz GLC and GLC Coupe can be seen in its design. However, the new EV adopts the new "Progressive Luxury" design language of its maker, which has cleaner and smoother surfaces with well-sculpted panels that are free of the sharp body lines present in the current Mercedes SUVs.
The electric crossover gets rid of the typical roof rails found in modern SUVs in order to maintain its clean look. Meanwhile, going around the vehicle reveals a coupe-like ridge on its roofing that certainly adds to its appeal.
Moreover, the EQC introduces an LED band on top of its radiator grille that also bridges the DRLs and the LED headlamps. A red LED strip running across the liftgate and connecting the taillights can be found on its rear too.
Further adding to its beauty is the set of wheels with blue spokes and rims. The wheels are available in sizes ranging from 19 to 21 inches.
Interior and Tech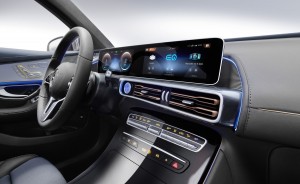 The interior of the Mercedes-Benz EQC mirrors the same level of luxury and tech found in the Mercedes-Benz A-Class Sedan. Rose gold accents adorn the cabin of the auto while its comfort elements are boosted by its heated leather seats.
The main attraction in the EQC is its twin digital displays. Each screen measures 10.25 inches and joined by a single glass cover. The infotainment system of the EV uses the Mercedes-Benz User Experience or MBUX interface.
In a nutshell, MBUX functions like Siri or Alexa. It carries an artificial intelligence that can recognize and process voice commands. It takes note of the preferences of its user too.
Mercedes-Benz EQC Photos
Feast your eyes on the official photos of the Mercedes-Benz EQC in the gallery below: