Mercedes-Benz G-Class Is Finally Getting Updates For 2018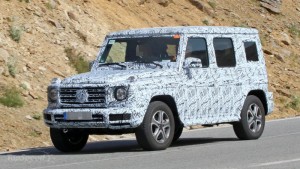 It looks like the Mercedes-Benz G-Class, the Geländewagen, is receiving major, generational change updates. It has been around for 40 years, first used by Germany's military forces and then later on, as the go-to vehicle of the rich and famous in Rodeo Drive.
Even AMG has a version of the SUV—the powerful G65 AMG with twin-turbocharged V-12 and G65 AMG 6×6 with three Portal axles and pickup bed.
The new spy shots revealed that the new G-Wagen will be wider and longer than the current version. There might also be new underpinnings. At first sight, the G-Wagen doesn't look that much difference in size to the current model but putting them side by side would reveal that the mule is much wider.
This is apparent on the test mule's front end that expands outward from a narrow grille, and the extra space on either side of the headlights.
But don't worry, the iconic look will remain because there is still that wide fender flares, low beltline, almost vertical windshield, and flat side glass and roof.
There are no spy shots of the interior just yet, but we can expect the new G-Wagen to have the same fittings as the S-Class and E-Class sedans, plus the extra room. But despite the new interior space, don't expect Mercedes to try to fit in a third row. Most likely, there will be cargo space after the second row.
As for powertrains, the G-Wagen will have a number of options—both diesel and gasoline. In the US, the main engine will most probably be a 4.0-liter biturbo V-8 that produces 416 horsepower and 450 pound-feet of torque. This then will be paired with Mercedes' seven-speed automatic transmission. 4WD will come standard on this model.
It's still early to estimate prices, but we expect the G-Wagen to start at $125,000.