Mercedes-Benz G-Class Unveiled at the 2018 Detroit Motor Show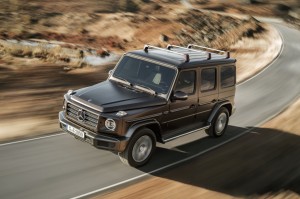 After much anticipation, the new Mercedes-Benz G-Class has finally been unveiled. The iconic SUV of the three-pointed star marque made its official debut at the 2018 North American International Auto Show or the Detroit Motor Show.
Before the auto event in Detroit, spy shots and leaked images of the G-Class without its camo already surfaced. Therefore, we already knew many stuff about the vehicle prior to its world premiere.
The G-Class Still has that Boxy Look
Upon seeing it in the flesh in Detroit, we were able to confirm many of the features that we earlier predicted about the new G-Class. As expected, the styling of the vehicle didn't change much since it was introduced in 1979.
The Mercedes G-Class retained its boxy body with firm lines, sharp fenders, trapezoidal bonnet, angular corners and round headlamps. Only minor changes were introduced in its exterior such as the revised front grille, upgraded lighting system, redesigned bumpers and new wheels.
There was a slight improvement in the measurements of the auto though. According to Daimler, the new G-Class is 53 mm longer and 121 mm wider than its previous model. These translate to a more spacious interior that gives the occupants of the SUV more legroom.
It has State of the Art Interior
While not much can be said about the exterior of the G-Class, its interior involves a different story. The new model of the SUV carried some of the basic tech and styling found in the S-Class and the E-Class sedans of Mercedes.
The cabin of the new Mercedes G-Class is highlighted by its twin 12.3-inch touchscreen displays. Then its instrument cluster has been updated to mirror the controls of its maker's executive sedan cars. The comfort and visuals of the G-Class was revitalized too with its high end two-tone leather covers and chrome inserts.
Better Performance Than Its Predecessor
When it comes to performance, the Mercedes-Benz G500 trim offers a petrol-powered 4.0-liter twin-turbo V8 engine. The unit has an output of 422 hp and 610 Nm of torque. The power of the G-Class is distributed to all four wheels via a nine-speed automatic transmission. Mercedes revealed that the auto's fuel consumption is at 11.1 liters per 100 kilometers while its Carbon Dioxide emission rating is at 263 grams per kilometer.
Furthermore, the off-road capabilities of the G-Class has been improved. It has 31 degrees approach angle and 30 degrees departure angle. Its maximum fording depth is at 27.5 inches (69.85 cm).
New in the G-Class is its "G-Mode" driving mode. This can be activated when one of the SUV's three differential locks has been released. It adjusts the damping, steering and acceleration of the vehicle accordingly during off-road trips.
Official Photos of the New Mercedes-Benz G-Class
Check out the official photos of the new Mercedes-Benz G-Class in the gallery below: