Mercedes-Benz GLB Concept and Mercedes-AMG A35 L 4MATIC Launched in China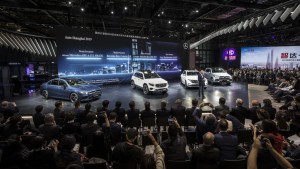 Mercedes-Benz stole the show again at the Shanghai Auto Show this year. The German automaker unveiled the new Mercedes-Benz GLB Concept sport utility vehicle and the Mercedes-AMG A35 L. Six other vehicles from the company also marked their entry into the Chinese market.
Mercedes-Benz GLB Concept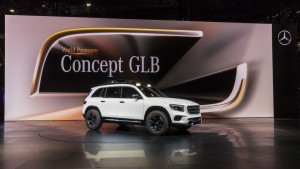 The concept vehicle for the Mercedes-Benz GLB showcases a muscular compact SUV with a long wheelbase measuring 2,829 millimeters. The auto features clean surfaces that use minimal body lines and with curvaceous corners.
The vehicle is highlighted by its white magno paint finish with high-gloss black accents. The exterior features headlights with Multibeam LED technology, front grille with orange highlights, roof rails, roof box at the rear, roof lights, chrome underguard with large air intakes, and set 17-inch wheels.
Inside, the GLB can carry up to seven occupants. The middle row can be adjusted to free more legroom for either middle or rear passengers; whichever needs more space.
The Concept GLB is powered by a 2.0-liter turbo four-cylinder engine with 224 hp and 350 Nm of torque. All that power is distributed to an all-wheel-drive system via an eight-speed automatic transmission.
Mercedes-AMG A35 L 4MATIC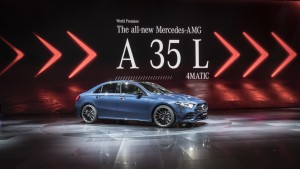 The Chinese market exclusive Mercedes-AMG A35 L 4MATIC is very much like the Mercedes-AMG A35 Sedan. The AMG A35 L only has a longer wheelbase as indicated by the "L" in its name. The AMG A35 L is longer by 60 mm in terms of wheelbase size compared to its AMG A35 Sedan brother.
The extra wheelbase size gives the rear passenger of the AMG A35 L more legroom. Meanwhile, its cockpit gets the same treatment found in the AMG A35 Sedan model such as the twin widescreen displays, sporty steering wheel, turbine-looking air vents and the MBUX multimedia system that can be operated via voice commands.
Beneath the hood of the AMG A35 4MATIC lies a 2.0-liter four-cylinder engine with exhaust gas turbocharger. It produces 306 hp and 400 Nm of torque distributed to all four wheels via a seven-speed automatic transmission.
The AMG A35 L can go from 0-100 km/h in just 4.9 seconds while its top speed is electronically limited to 250 km/h.