Mercedes-Benz Imagines the Future of Off-Roading with Ener-G–Force Concept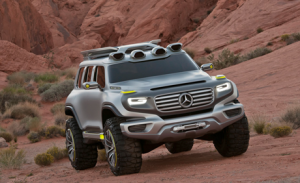 German luxury auto brand Mercedes-Benz is known for creating some of the most stylish, well-built vehicles on the market, and the company's commitment to innovation is no less impressive. At the 2012 Los Angeles Auto Show later this month (Nov. 30th-Dec. 6th), Mercedes-Benz will join other automakers from around the world to debut unique concepts along with traditional production models.
This year, some of those unique concepts will have been entered in the Los Angeles Design Challenge 2012, for which participating auto brands were asked to design the "Highway Patrol Vehicle 2025." The result of this, for Mercedes-Benz, is the Mercedes-Benz Ener-G-Force concept SUV, which is based on the standard Mercedes-Benz G-Class SUV. This SUV has been heavily edited with a new, bulkier grille, 20-inch rims, and smaller windows. The emergency lights on the current vehicle have been removed for an optimum off-roading experience.
The current Mercedes-Benz G-Class SUV (short for Gelandewagen) has been on the market for 34 years and has procured quite a following for itself. Though the company has often announced it will be discontinued, its high sales have kept it alive and well over the years. Overall, its known for its rather dated design, which still proves popular despite the fact that it hasn't changed much since the vehicle's inception. (Though it has received a couple of redesigns over its lifetime, everything has changed except its signature look). Freed of its design constraints, however, Mercedes-Benz designers were happy to consider how it might look in 2025. The company even admits it could provide clues about the vehicle's look in the near future.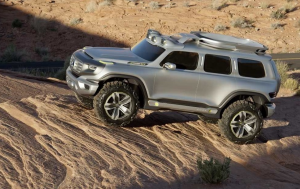 The Ener-G-Force has been designed as a clean energy vehicle that would, theoretically, run solely on hydrogen power. Though the technology has yet to actually be developed, Mercedes-Benz imagines that the new SUV would feature roof-top tanks that store natural water and fuel a hydro-tech converter to power onboard fuel cells. Electric motors would be present under each wheel hub to provide additional power, and the company reasons that range could be up to 500 miles with this type of system. Illuminated side skirts would also conceal swappable battery packs that store any excess electric power that is created, and the lights surrounding them would change color depending on the charge level of these packs.
In addition to the tanks, the roof of the vehicle would feature a scanner to survey the surrounding terrain and adjusts the suspension accordingly, as well as four pods of auxiliary lights.
Though Mercedes-Benz is quick to note that the new Ener-G-Force is "pure, rendered science fiction," it could give us some indications about new vehicles to come in the future. In fact, Gordon Wagner, Director of Design at Mercedes-Benz Cars, explains that the concept could "be a clue about a new beginning for the off-road design idiom of Mercedes-Benz."
A full-scale model of the concept SUV will be on display at the 2012 Los Angeles Auto Show.