Mercedes-Benz Is Planning A Sub-Brand For Electric Models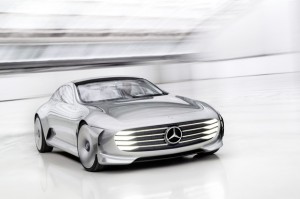 Recent reports have indicated that known luxury car maker Mercedes-Benz is gearing up to build an entire sub-brand for electric vehicles, following the success of Tesla's luxury EVs. It seems the German automaker wants to cash in to what was once perceived to be merely a hype tech geeks, engineers and moguls have created.
Last June, Dieter Zetsche, CEO of Mercedes-Benz's parent company Daimler, said that the automaker plans to introduce its first EV at the Paris Motor Show in October. According to reports, the model would be a direct competition to the Tesla Model S, and will have a 310-mile range either to meet or exceed what the Tesla model can deliver.
Expected to be built in Germany, Merc's new EV will carry whatever moniker the automaker conceives to challenge BMW's i label.
Tesla's Model 3 currently has 373,000 reservations, so it's fairly obvious this is not merely a trend. Mercedes wants to capitalize on that interest, and the timing now is just about right.
But to get to that point, the company has to invest extensively in research and development toward EVs. This is in part of the German automaker's larger plan to boost its R&D spending from $6.3 billion in 2014 and $7.3 billion in 2015.
Passenger cars are not the only vehicles Daimler is looking to turn into electric-based. The Urban e-Truck prototype has proven that electric distribution is already a must in deliveries within the city.
Mercedes-Benz is not exactly oblivious of what Tesla has been doing. Its parent company Daimler has invested heavily in Tesla, and in fact earns a 10-percent stake in Tesla Motors in 2010, though its remaining 4 percent was sold in 2014.
It has even purchased Tesla batteries for the B-Class Electric and Tesla was the one that developed the whole propulsion system for the early version of Smart Electric Drive.