Mercedes-Benz Mildly Updates CLA Coupe and CLA Shooting Brake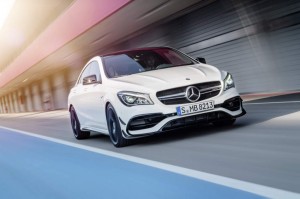 The sign of a successful car is an almost invisible midway into its life. You know you're making a good choice in buying a particular vehicle if the company has a reputation of improving the current version even before a new model comes out.
Mercedes-Benz is doing us all a favor in putting mild adjustments on its CLA four-door coupe and its Shooting Brake version. Although even owners of the coupe and the Shooting Brake may not be able to tell the difference, it's still a welcome development for those who have yet to get their hands on the Merc.
The marketing materials from the company pointed out that there's a new coat hook in the CLA's grab handles, but that only means the car is evolving rather than introducing new technologies.
Of course, there are highlights, and these are quite literal, in a sense. With the update, Mercedes lovers can expect new LED high performance headlights that use less than half of the energy of equivalent xenons. That speaks of the Merc's ability to adjust itself to calls for more eco-friendly vehicles.
These said headlights also offer a kind of illumination that is almost similar to natural daylight. This would be then helpful to people who usually find it hard maneuvering through dark streets—something the company can address succinctly by merely changing the headlights.
Then, there's the suspended mid-air media screen that is smarter and slender than the previous version. It might not be that big of a deal for some, but it's perfect for one's line of vision.
The CLA has a new engine, too. The cheapest is the CLA180 diesel that emits just 89g/km of CO2, roughly the same as the Prius. It comes in front wheel drive and manual transmission.
As you go up the range, there's AWD and automatic transmission, the most powerful of which is the CLA45 AMG models that has the same updated 376bhp 2-litre petrol turbo engine as the A45 AMG.
The CLA Coupe will debut next week at the New York Motor Show while the CLA Shooting Brake will launch in April at the Laureus World Sports Awards in Berlin. Deliveries of both start in July.