Mercedes-Benz Plans To Build Electric Compact Car In France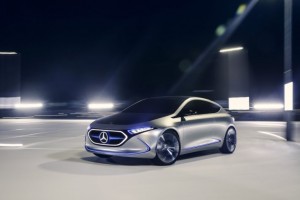 Daimler is investing as much as $589 million in Hambach, France to produce a small electric car for Mercedes-Benz. This is the first move by the German automaker to jumpstart its plans of producing 10 electric vehicles by 2022 and finally competing with US rival Tesla and its Model 3.
The Smart brand is producing all of its EVs in Hambach. Markus Schaefer said in a statement that the Smart plant in Hambach will become a part of the brand's global compact car production network. The lead plant will be placed in Rastatt, Germany.
Mercedes is working to make its vehicle underpinnings suitable for the conditions it wants—to be able to mass produce a variety of electric vehicles in the same volume as models with gasoline, diesel, and hybrid engines. Such a move will allow the German automaker to boost production once the orders start to come in.
Making 620,000 units of compact vehicles last year, Mercedes is currently producing its compact A-Class, B-Class, and GLA models in Rastatt, Germany, in Kecskemet, Hungary, in Beijing, China, and in Aguascalientes, Mexico. Its US rival, Tesla, was able to deliver 101,312 vehicles last year.
There was no information what EV Mercedes is planning to initially produce, though the brand presented the Concept EQA in September. It is an electric car with a 250-mile range and has the ability to recharged without having to be plugged in.
The French plant is being adapted to make it possible to house a variety of EVs that Mercedes will have in the pipeline. Particularly, the facility is being readied for the first-ever Mercedes-Benz passenger car in France. It looks like Daimler is expecting orders to pour in for its electric compact car as its Hambach plant, where Daimler produces its electric and combustion-engined two-seater Smart vehicles, can already produce more than 80,000 units in a year.