Mid-Engined C8 Corvette Is Coming On July 18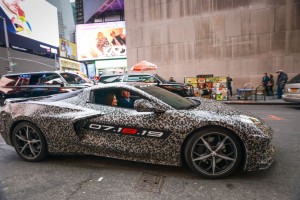 For years, a mid-engined Chevrolet Corvette was like a mystical creature we cannot fathom if real or not. But the 2020 C8 Corvette has just made its first public appearance in New York City with full-on leopard-print camouflage and towing General Motors CEO Mary Barra and Corvette chief engineer Tadge Juechter.
The production trim will be making its first public appearance on July 18 at a location that's still to be determined. Expect the production version to be made available for sale next year. This new Corvette is the eighth generation of America's greatest sports car and it features the most radical engineering change since it first debuted in 1953.
The change comes from moving the engine from under the hood (which made it possible for the car to have a shorter hood than most) to tucked between the passenger compartment and the rear wheels (as evident of the big air scoops ahead of the rear wheels).
Nearly all of the world's fastest and most maneuverable cars put their engines behind the passengers. This setup allows the driver to better handle the car because the weight of the engine is in the middle, which means better balance and plenty of grip in corners. It also provides better traction for the rear wheels.
According to Car & Driver, the C8 Corvette will launch in Stingray trim, which will use an updated version of the car's 6.2-liter V-8 engine that produces around 500 horsepower. There will be many high-performance options that we can choose from once the production version is ready. Sadly, a manual transmission is not in the mix.
The C7 Stingray has a starting price of $56,995. Some auto pundits predict that Chevrolet will increase that price by $5,000, putting the entry-level C8 Corvette in the $62,000 mark. Based on the projected specifications of the new mid-engined Corvette, that's pretty reasonable.