Mini Contemplates New Small SUV Offering
BMW, the German auto company overseeing several brands, including Mini, which is renowned for its stylish little British hatchbacks/coupes,  will soon be offering brand-new types of vehicles to its dedicated drivers according to Inside Line magazine. Among the new Mini  models being considered is a sedan, a small sports car, and a small SUV, which could take the brand's total range up to 10 vehicles. Recently, the brand introduced its seventh model, the Mini Paceman, which is a restyled, three-door variant of the existing five-door Mini Countryman.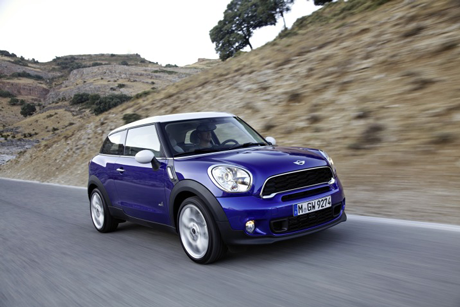 Harald Kreuger, a recently appointed member of the Mini auto brand notes that though these models have yet to be confirmed for creation/production, they seem to make sense for the brand. He explains the idea behind a larger model Mini, stating, "A lot of customers would like to stay with the brand when they need something bigger . . . and a Volvo or a BMW will not do." He also adds that all of the new Mini models will feature 'go-kart handling, emotional design, exude Britishness and be profitable."1
With the creation of its 2011 Rocketman concept, BMW also began the process of exploring a much smaller Mini, though the idea has been shelved for the moment, as the brand discovered it was too costly to make. Because the Mini models are already rather petite, building more compact models that are still profitable could be a task that's rather impossible anytime in the near future.
The new Mini SUV would be rather similar to the current Countryman crossover, which has proven its worth (judging by sales), despite the fact that its sheer size can't really be considered miniature ("Mini"). Currently, this sales of the Countryman make up about 30 percent of the brand's global sales –only slightly behind sales of the traditional hatch (35 percent).
As stated, there will be a continuing emphasis on the "Britishness" of these vehicles, and Kreuger and his colleagues are considering opening a U.K.-based design center to keep this spirit alive. This certain British element is one of the Mini brand's main selling points in the U.S. and other global markets, and it's important for BMW to keep this intact. However, we must  note that, presently, all Mini models are designed and built in Munich, with consideration from the BMW DesignworksUSA studio located in sunny California.
Of course, production is a different story. BMW is in the process of investing an additional $1.2 billion in its Oxford, England plant. Once the project is complete, it will have the capacity to produce 250k units, though this number could increase with different work schedules. Some of the new Mini vehicles will also make their way to BMW's Mitsubishi-Volvo Nedcar factory in the Netherlands by 2014.
For more great BMW and Mini updates, as well as news about other new SUV models, be sure to check back often right here with reviewitonline.net. We're here to keep you up-to-date on all auto industry happenings!