Mini Cooper Royal Wedding Edition To Be Auctioned Off For Charity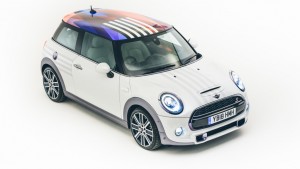 What wedding present can you give a couple who has everything? As Prince Harry and Meghan Markle is set to tie the know on May 19, Mini has come up with a Mini Cooper Royal Wedding Edition that it will gift to the couple. But unlike other gifts which the couple will keep, this one will be gifted for charity.
The car will be given to the chosen charity of the couple that will then auction it. The full proceeds will go to the chosen charity. It has been reported that the Prince and Markle chose The Children's HIV Association or CHIVA as the charity where the proceeds of the car sale will go to. HIV is an issue close to the heart of Princess Diane, Prince Harry's late mother.
Mini's design team customized and personalized the Mini Cooper 2-Door with a handmade roof graphic and a special edition interior. The designs are 3D printed and also feature special embroidery. The multi-layer roof graphic has been applied by hand and it's a combination of the Union Jack and the Stars & Stripes, symbolizing the couple's nationalities.
The opened doors will project a "Just Married" sign onto the ground as a special touch. All the small details around the car are bespoke—from the chrome finish to the side scuttles. Outside, the car is wrapped in Crystal White paint. Inside, it has a Satellite Grey leather with a trim strip announcing the first names of the bride and groom, as well as the wedding date. To match the roof's graphics, there are complementary accents in the door cards.
If you want the Mini Cooper Royal Wedding Edition (not the official name) but can't join the auction, you can have some of the custom work replicated through the Mini Yours personalization program. That even includes the 3D-printed parts as option.