MINI Introduces Trim Levels For The First Time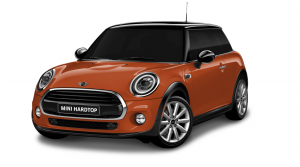 MINI will now be classified according to three trim levels—Classic, Sport, and Exclusive—the first time the company did this for its model lineups. No longer will the MINIs be categorized according to their engines. The move is part of a lineup reshuffle that will begin in November.
The reshuffle also includes a five-step ordering process where customers can choose the Classic, Sport, or Exclusive trim level. The process will begin in picking up from five types of model—a 3-door hatchback, a 5-door hatchback, the MINI Convertible, the Clubman estate, or the Countryman SUV.
They can then select which engine they like: the One-badged 1.5-liter three-cylinder 101 horsepower petrol, the two Cooper units—the same three-cylinder 1.5-liter petrol unit but with 134 horsepower and the 2.0-liter turbodiesel Cooper D with 148 horsepower—and the range-topping 189 horsepower 2.0-liter four-cylinder Cooper S engine.
All models will come with automatic headlights, MINI logo projectors under the doors, and selectable interior ambient lighting, which is part of the MINI Excitement Pack as standard.
The trim levels are visible once the customers are asked to choose new exterior and interior styles. The Classic trim is available with all engine options and uses the standard bodywork. The basic trim level is the three-door hatch with the One engine that's priced $21,360.
The Classic trim is also available on the hatchback models. It uses the regular bodykit but with 15-inch steel wheels on cars with the One engine. Standard to the Cooper and Cooper S cars are the larger alloy wheels.
The Sport trim will consist of a John Cooper Works (JCW) bodykit with either a 17-inch or 18-inch alloy wheels. There are also a couple of features such as the sports steering wheel, sports seats, cruise control, and sport suspension.
The range-topping Exclusive trim combines the features of the Sport trim with a little bit more luxury. The bodykit has chrome accents and chrome trim elements in the cabin, leather sports seats, and a leather steering wheel.