More Details About Range And Battery Of Upcoming Honda E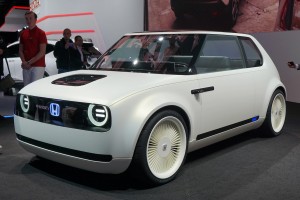 Honda revealed more details about its cute compact electric vehicle simply called Honda E. Although it is not intended for the US market, it's still worth taking note that the Honda E will have a 50:50 weight distribution that is marked to provide ample breathing room for the car's lightweight transition.
The first near-production prototype of the Honda E was shown at the 2019 Geneva Motor Show while the final version is scheduled to be revealed later this year to the European market. It is not clear yet why the Japanese carmaker decided the US market isn't ready to receive the Honda E, but we'll keep our fingers crossed for this plan to change.
The Honda E is less funky than the original Urban EV concept on which it is based. However, it retains most of the features that made that EV concept quite a star among car enthusiasts. The Honda E's electric motor will deliver power to the rear wheels and the chassis features a four-wheel independent suspension.
The battery pack is a water-cooled 35.5-kilowatt-hour lithium-ion unit that is compatible with a Type 2 AC connection or a CCS2 DC rapid charger. The maximum range for the Honda E is pegged at 125 miles but the rapid charger can bring the car's charge to 80 percent in just 30 minutes.
You can find the charging port on the hood. It features LED lighting to easily be distinguishable and for owners to see the charging status.
According to Honda, the company already received about 31,000 reservations for the compact EV. Most interested consumers are coming from the UK, Germany, France, and Norway. That number will easily increase so long as Honda brings the car to the US and even to other markets. While that remains to be seen, here's to hoping the Japanese automaker sees the practicality in this.