More Details Emerge About The 2020 Cadillac CT5 Luxury Sports Sedan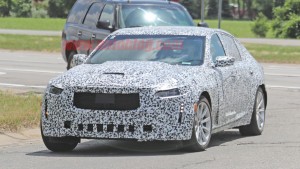 Cadillac hasn't given us much to talk or think about when it comes to the 2020 Cadillac CT5 luxury sports sedan—seeing as the prototype has always been heavily camouflaged to the point that it's barely recognizable. We think Cadillac wants us to think they're merely testing the Charger, thanks to the big hood scoop and fake full-width taillights.
The last time we got spy photos of the CT5, we only glimpsed its front end. This time, thankfully, we're seeing it from all angles and despite the fake body work, we can find some important new details about the luxury sports sedan.
The front lighting takes a new development. The production-ready headlights are fitted with what appears to be LED illumination and it takes on the same shape we saw on the last prototype. We believe this will end up higher on the front-end section, probably extending horizontally toward the grille. A section of the headlights would still bend to extend to the fender at the back. The design language of the headlights is meant to fuse the current Cadillacs and the Escala concept, which are the basis of the car's overall body style.
There are also vertical LED accent lights, a trademark feature of the current Cadillacs and the Escala. This is a new detail since we didn't see this development on the last prototype.
The grille's details have also changed. Instead of the usual slats that we see in many Cadillacs and other sedans, the CT5 has a plastic mesh of small rectangles. Think of a brickwork and you'll understand what the CT5 is getting into.
The back looks a typical Cadillac, though it's less modern than the front end. There are angular cutouts in the bumper (probably to let exhaust gases out) and the taillights have the current Cadillac look with the top curving. The prototype used fake lights, so we can't tell yet if it will be similar to the one on the Escala.
There's a good chance the new CT5 will use existing Cadillac engines such as the turbocharged 2.0-liter four-cylinder, naturally aspirated 3.6-liter V6, and the twin-turbo 3.0-liter V6. The CT5 should be revealed sometime next year for the 2020 model year.
2020 Cadillac CT5 Photos
Here are new spy shots of the 2020 Cadillac CT5 from Autoblog: