MW Motors Luka EV Ready To Be Launched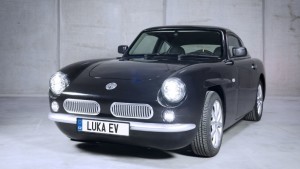 MW Motors announced that its Luka EV, an electric vehicle, is ready to be introduced to the world. The team just started testing its first prototype after we first heard about its conceptualization in 2015.
The goal of the Luka EV is to reach 186 miles and a weight of 1,650 pounds for an affordable price of less than €20,000. The goal has been met as the two-seater Luka EV uses four 12.5-kW in-wheel electric motors that produce a total of 66 horsepower. That could push the car to 62 miles per hour from a complete stop. This can be reached at just 9.6 seconds. Top speed is 90 mph.
Luka EV is a bit heavier compared to the target of 1,650 pounds, but it's still okay at 1,800 pounds, thanks to an aluminum alloy chassis and fiber-reinforced plastic body. It can go 186 miles on a single charge because of the 21.9-kWh NiCoMn battery pack.
The Luka EV has a retro look on the outside, looking a bit like the Mini Cooper. But don't be fooled by the retro-inspired styling on the exterior. The cabin packs a whole lot of tech and modern features. The seats are upholstered in leather, and there's air conditioning, power windows, infotainment and navigation will also come standard to the model.
According to MW Motors, the Luka EV will be highway legal in the European Union, but there are no details yet whether it will be available in North America. There are a lot of EV startups in the market these days, but there are only a few lightweight, stylish, and affordable options. So, the Luka EV will be a welcome option in a market that is slowly growing and becoming increasingly relevant to society.
No other details are available, including the prices for the Luka EV, so stay tuned for that.
Photos
Check out the official photos of the Luka EV here: