New 2019 Kia Niro EV Unleashed At International Electric Vehicle Expo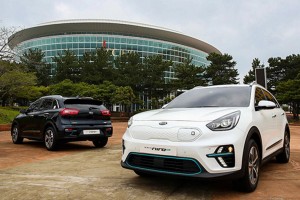 Kia surprised everyone at the 5th International Electric Vehicle Expo in Korea when it revealed the all-new Kia Niro EV in production-ready form. Following the surprise revelation, we are now receiving information about the European specifications of the electric vehicle, as well as details about its European debut at the Paris motor show in October.
Based on the new WLTP testing procedure, the Niro's long-range 64kWh battery will be capable of reaching 298 miles on a single charge, the same range claimed by the Jaguar I-Pace. It is also slightly better than the 292-mile range of Hyundai's Kona EV, Kia's smaller sister car.
The production version of the Niro is far off from the concept shown during the Consumer Electronics Show at the start of the year. Instead, it looks very much like the existing hybrid and plug-in hybrid versions of the crossover. The lone difference in terms of design is the lack of grille, which is now where the charging socket is docketed. Other new elements in the design are the vibrant teal highlights on the front apron and the arrowhead style daytime running lights.
There will be two battery sizes available for the Niro EV—a smaller, cheaper 39.2kWh version and the long-range 64kWh car. The cheaper option won't likely be available in Europe. That market will only probably see the 298-mile option. Expect the car to arrive in Europe dealerships in early 2019.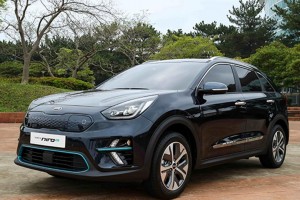 The Niro EV is one of the 31 electric vehicles that Kia plans to launch by 2020. Michael Cole, Kia's European Chief Operating Officer, said in earlier reports that the Niro lineup would have three powertrain choices. So far, we've seen two of those three options. And rather than introduce new models for its electrified lineups, Kia would rather develop alternative powertrains for its existing EV models.