New Dodge Challenger T/A and Charger Daytona Cars Introduced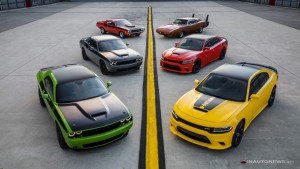 To welcome the Woodward Dream Cruise with a bang, Dodge released new Challenger and Charger models to watch out for. The brand unveiled the Dodge Challenger T/A and Charger Daytona editions. The cars bearing the 2017 model year come in various bright colors, customized parts and more power in the engine.
Dodge Challenger T/A
According to a source, the Challenger T/A packs a 5.7-liter V8 engine similar to the one carried by the Challenger R/T. The power unit has an output of 375 hp. The car possesses the brand's "Air Catcher" headlights, LED T/A logos, air duct on the bonnet, enhanced exhausts, and forged aluminum wheels.
Dodge also offers the Super Track Pak for the Challenger T/A. The kit lowers the suspension of the car by half an inch. In addition, it is available with new brakes, Bilsten shock absorbers, remapped stability control and the wheels are wrapped in Goodyear Eagle 1 tires. Moreover, the package comes with satin black hood or T/A stripes as visual enhancements. Buyers even have the option to get the Green Go finish with the kit. The Super Track Pak has a starting price of $37,390.
The Super Track Pak can be installed on the Challenger 392 too with a 6.4-liter V8 engine producing up to 485 hp. It comes with new 20-inch wheels and other accessories. The starting price of the package is $43,995.
Dodge Charger Daytona
The Charger Daytona edition, as its name implies, commemorates the brand's limited-production 1969 NASCAR-inspired car. The auto has the 5.7-liter Hemi V8 engine. Its upgrades include active performance exhausts, 2.62 rear axle ratio, the goodies of the Super Track Pak, and reconfigured auto transmission. The kit has a starting cost of $39,890.
The Charger 392 can get the Daytona elements as well for $44,995. The package imbues the car with a 3.09 final drive ratio, limited-slip rear axle, direct cold air induction, fender decals, plus 20-inch wheels partnered with Brembo brakes and wrapped in performance tires.