New Infiniti Q50 Packs Refreshed Looks And Features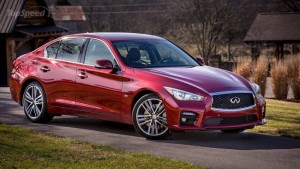 Infiniti Q50 is new in the world of compact luxury sedans as it evolved from the G-series model that started in 2013. But even though it is new and untested, it brings to the table to timeless combination of good looks, high tech features, and amazing performance.
The previous Q50 is the best selling production of Infiniti in North America, with sales numbers growing in the past years. It's no wonder that it's getting a lot of attention from the company this year. The Q50 is receiving a lot of updates, including updated infotainment, revised suspension technology and new engine options.
But the change that tops the cake is the 400-horsepower twin-turbo V-6, which, although is a far away throw from the 560-horsepower, GT-R derived Q50 Eau Rouge concept we have been expecting, still packs some power.
When it comes to the exterior, the 2016 Q50 is almost basically unchanged. It retained the front fascia, the 3D mesh double-arc grille, LEDs for headlights and daytime lights, and chrome for the side window surrounds, door handles and trunk. There are also taut creases on the hood that adds a muscular style to the roofline, shoulder line, bottom door line and rear bumper.
As for the color, it looks like the 2016 Q50 will only be offered in red, but that brings out the powerful aura more, don't you think?
Inside, it pretty much looks the same as the previous model with a few tweaks here and there. You get the sophisticated feeling of the gentle curving lines and premium materials used for the seats. The steering wheel has three spokes and dual multi-function pads, as well as an optional heating function and paddle shifters made from magnesium.
The front row seats, which have heating options, face a center console that includes an 8-inch touchscreen above and a 7-inch unit below.
The 2016 Infiniti Q50 will start at a price range of $33,950 for the 2.0-liter I4 turbo option.
Source: TopSpeed