New Nissan BladeGlider Edges Close To Production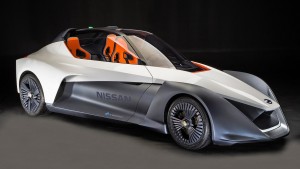 We had a sighting of the new Nissan BladeGlider, which, contrary to how we met it before in its concept form, is a little close to being production legible. Notice how the form is a little neutered? It's still not anywhere near a production car, but it looks like Nissan is proving its promise to bring the BladeGlider to showrooms.
Originally introduced during the 2013 Tokyo show concept, the car was so out-of-this-world that we deem it impossible to see a production version anytime soon. For now, it's dubbed as the BladeGlider v2, an "advanced prototype."
The differences between the original concept and this one made us think it's possible to see these with licensed plates soon. After all, Nissan made sure the front and rear widths are less disparate, though still at "odds" with each other. The widths are, of course, inspired by DeltaWing badge.
The BladeGlider is being described by a source as an electric car for car lovers, with specs that definitely prove such claims. It's a rear-wheel-only drive, each one having its own 130kW motor. The total system output is 264 bhp and 521 lb. ft. Not bad at all for an electric car.
It weighs around 1,300 kg, which is a lot in terms of racing car specs. Remember, though, that the BladeGlider also packs batteries. In terms of sizing, the BladeGlider should compete with the likes of Ford Focus (in terms of length, width and wheelbase) or the Nissan electric Leaf.
The car is powered with a mixture of two motors via torque vectoring. It has three modes—off, agile and drift. There are no details yet regarding powersliding, though we can only imagine how that would feel with the BladeGlider.
Britain's Williams Advanced Engineering will provide the powertrain, which has a top speed of 118mph, and takes 0 to 60 mph in less than five seconds.
Two of the BladeGliders are on their way to Rio de Janeiro for the Olympics. Let's see how the reactions will turn this advanced concept into a production version.