New Toyota RAV4 EV Has True Potential for Success
The 2013 Toyota RAV4 EV is one of the most impressive electric vehicles currently on the market, and despite the lack of attraction consumers seem to have towards electric vehicles as compared to hybrids and standard petrol-powered autos, we can't help but believe that drivers will find this new Toyota highly attractive after taking a test drive!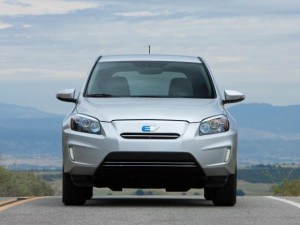 So, what's so impressive about this new SUV? Well, first of all, drivers who get their hands on the vehicle will be driving a rather unique auto, as Toyota plans to only build 2,600 units of the special RAV4. These will be sold in the same state over the next three years, though the standard RAV4 is set to be given a complete redesign next year.
2013 Toyota RAV4 EV Specifications:
Powerful Insides: The new Toyota RAV4 EV is powered by a large 41.8-kWh lithium-ion battery mated with a 154 horsepower motor (both from carmaker Tesla) and is equipped with front-wheel drive. This Toyota has been rated at a 103-mile range by the EPA, but Toyota claims that drivers can really expect a typical range of about 115 miles- much farther than many other electric cars on the market.
Battery Charging Time: Battery can charge in as short as five hours using a 240V power outlet, but as much as 52 hours from a standard 120V outlet. The EV includes a 10-kWh on-board charger
Aerodynamic Features: Include a large rear spoiler, small exterior mirrors, underbody panels to aid airflow, and a smoother front fascia. The spare tire mounted on the rear of the standard RAV4 is missing. In its place is a can of aerosol sealant.
Tantalizing Technology Features: Only one trim and no options are available, but the standard technology features are quite impressive. These include a 8.1-inch touchscreen dashboard with an 8,1-inch touchscreen and features EV charge and usage info, as well as a navigation system that can search for charging stations, audio controls, the Toyota Entune telematics system, and a rearview camera. The Eco coach rates the driver's braking usage and acceleration system on a scale of 100 to embolden more energy-efficient driving. Instead of traditional climate control knobs, this EV features touch-sensitive controls. Toyota has called these new controls an "experiment" and will monitor how EV drivers (who are traditionally early adopters) will react.
New EV Pricing: Pricing comes in at about $49,800, but it is eligible for a $7,500 federal tax credit in the States, with the state of California contributing an additional $2,500 credit.
Warranty Information: All warranty services and claims will be handled by Tesla. The vehicle's battery includes a 100-thousand mile, eight-year warranty, which the remainder of the new SUV receives the standard Toyota RAV4 3-year/36-thousand mile basic warranty and a 60-month/60-thousand mile powertrain warranty.
Still craving more information about this new EV? Be sure to check out our extended review of the vehicle, and don't forget to stay tuned right here for more new SUV updates!