Next-Generation Dodge Charger and Challenger Might Go Hybrid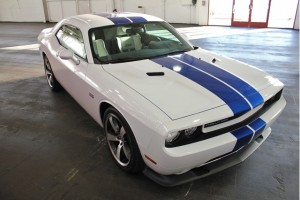 The Dodge Charger and Challenger are outdated. That is when you look at their specs on paper. But once you get to handle these two massive machines, you'll realize why car enthusiasts kept on placing these two at the top of the wish list. There is nothing outdated with the 797 horsepower in the Challenger SRT Hellcat Redeye.
Big power is always going to be a favorite, no matter if they come in forms of a powerful sedan or in pickup trucks. But fuel economy all around the world is becoming stricter. The regulations in Europe alone will not allow the continuation of high-performance Challengers. So, how will they survive under these stricter regulations?
They must go hybrid. That's exactly what Dodge is looking at with the next-generation Dodge Challenger. According to The Detroit News, who spoke with Fiat Chrysler CEO Mike Manley, the company is "surprisingly" open to the idea of going electric. Since we're technically entering the 2020s, the platforms and technology used in the current-generation Challenger, for example, cannot be carried over.
"New technology is going to drive a load of weight out, so we can think of the powertrains in a different way. And we can use electrification to really supplement those vehicles," Manley said.
What's the takeaway here? Manley is looking at electrification not only to follow fuel economy regulations and cut down on gasoline and diesel use but also to improve the performance of the cars. Of course, that means that the era of the Hellcat, a supercharged V-8 engine that makes 700 horsepower, might be over.
Electrification, according to Manley, will be part of the fabric of creating American muscle cars in the future. And while the thought of saying goodbye to the 700-HP Hellcat might not sit well for the car's fans, let's give the future—an electrified Challenger—a chance first.