Nissan Leaf Nismo Sport Version Will Go On Sale This Month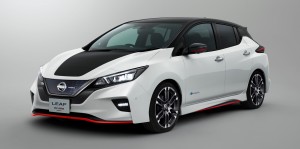 The Nissan Leaf Nismo is finally going on sale this month. The Japanese automaker said the Nismo version will be available by the end of this month in Japan. There's no news yet on an international rollout, though we expect the dates to be announced soon.
Nissan and Nismo, the automaker's motorsports and in-house tuning division, have been teasing us with the prospect of making a new Leaf for a while. They made true to their promise and has announced the debut date of the Nissan Leaf Nismo.
The Leaf got a much-needed design refresh from the release last year. It still didn't make it attractive for some but to be fair, Nissan's electric vehicle has come a long way from how it looked during the company's first few versions.
Exterior
The Nismo sport version is giving the Leaf an upgrade in terms of the exterior. It now has a more aggressive and sportier design. It features the layered double wings that are the character of the Nismo road car series. It will improve downforce without compromising the drag coefficient, according to a statement from Nissan. There's also a set of custom 18-inch aluminum wheels that minimize air resistance.
There are nine body colors available, including the Nismo series' custom Brilliant Silver/Super Black two-tone and Dark Metal Grey/Super Black two-tone. Both come with a metallic finish.
Interior
The cabin has a sporty appearance as it uses Nismo's custom red accents, including the three-spoke steering wheel with a red center mark. The instrument panel has a custom carbon-like finish while the electronic shift has a gunmetal chrome finish.
The Leaf Nismo's 18-inch high-grip tires and custom suspension system assures a comfortable ride and stable handling. The custom-tuned electric power steering and Intelligent Trace Control for cornering stabilization system provide high stability and lane-tracing abilities.