Nissan Terra SUV Concept – The New Green SUV!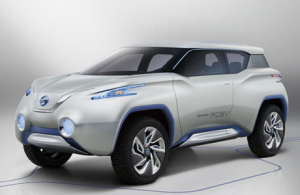 With the rising awareness amongst individuals and governments alike across the globe regarding the rapidly increasing problems of environmental deterioration, the automobile giants have planned extensively for switching from more traditional car models to more environmentally friendly ones. The 2012 Paris Motor Show showed that the Japanese automobile maker Nissan is paving the way in green automotive technologies. The company unveiled its Terra SUV Concept, which uses Hydrogen gas as the fuel, and is now waiting for the adaptation of Hydrogen as a fuel by governments of its customer countries.
The unique thing about Nissan's Terra SUV Concept is that it features a Hydrogen propelled engine and boasts an all-wheel drive system! It produces no harmful emissions and uses no fossil fuels for its functioning. The car contains two electric motors, one which drives the front wheels and a second one which powers the rear wheels. Hydrogen helps to run an engine and produce more power for the batteries of the car. With the availability of hydrogen as a commercial fuel, the Terra SUV would certainly be among the favorites of customers and critics both!
Terra is certainly a SUV of the future, both by its functioning as well as its looks! The exteriors of the car are, in one word, spectacular! With the sleek and smart headlamps and tail-lamps, the Terra SUV looks aggressive. The bold looks are complimented further by the stylish side glasses. The car looks quite unique compared to conventional models that we see driving down the roads today!
The interiors of the car are equally stylish and elegant. Currently, Nissan has unveiled a 4-seater version of the car. A peculiar thing about the interior is that the seats are arranged in a diagonal pattern, which makes the rear-seated passengers follow the shoulders of the front-seated passengers, and not completely behind them, as is in the cars of today's world. A wood-acrylic blend has been used to enhance the looks and overall feel of the interiors.
Although the company has no plans to add unrealistic and futuristic technologies to the cars interiors, it does feature one accessory that does seem to win the hearts of people! Step inside the car behind the steering wheel and you will find a tablet computer docked in front of you! This tablet can be undocked and carried anywhere, as it works like any other tablet, but it keeps itself connected to the vehicle at all times. You can use the tablet for navigation, entertainment, or a variety of other functions when it is docked inside the car!
Nissan has indeed leaped ahead of its rival SUV makers with the help of its new Terra SUV Concept! All that it is waiting for now is the prominent usage of Hydrogen gas as a fuel, which will be marked by the launching of the Terra in the markets for sale!