Pininfarina Launches EV Brand, Hypercar To Come In 2020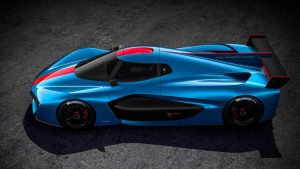 Pininfarina launched Automobili Pininfarina on Friday in Rome. The brand will focus on the conceptualization and the production of electric vehicles. Pininfarina's parent company, Mahindra, is currently in Rome to compete in this weekend's Formula E Championship round.
Battista Pininfarina said that launching a car brand is a dream come true for him. Thanks to the financial backing of Mahindra, these dreams are coming into fruition.
The cars that will be produced under the new brand will be prestigious and luxurious, true to Pininfarina's name and reputation. The first model will arrive this year as the production version of the H2 Speed concept that was shown at the 2016 Geneva motor show. The H2 Speed is a track-only electric supercar that uses a hydrogen fuel cell stack instead of batteries. There will only be 12 units in production.
But on Friday, during the launch of the Automobili Pininfarina, the company said that the flagship model of the brand will arrive in 2020. The vehicle will use a technology formulated by Rimac and Mahindra's Formula E team. Power output will most likely be 1,480 horsepower, similar to the Bugatti Chiron. But much like the H2 Speed, too, there will only be a few units in production.
Rimac, as we can all remember, recently revealed C_Two hypercar that can produce as much as 1,914 horses from its four electric motors.
Don't fret, though. Even if you can't get your hands on the flagship model from Pininfarina's new car brand, you can get dibs on other Pininfarina models, which will be built in higher volumes. This would include sedans and SUVs.
This is not the first time Pininfarina would venture into the production of cars. The company has been actively building various cars for companies, including the Volvo C70. It also has quite an experience producing electric cars such as the BlueCar electric hatch developed by French firm Bollore.