Porsche Panamera Executive Unveiled at Shanghai Auto Show 2017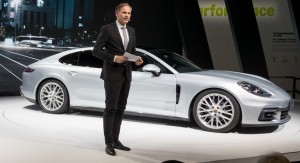 Porsche just unveiled a long wheelbase version of its Panamera at the 2017 Shanghai Auto Show. The German automaker calls it the Porsche Panamera Executive.
China-Exclusive Model
First, it should be noted that the Panamera Executive will only be available in the Chinese market. Recognizing the potentials of the luxury vehicle segment in China and the preference of its rich personalities to be chauffeured to their destinations as they ride comfortably in the rear passenger seats, the automaker decided to offer the long wheelbase car in the giant Asian country.
Strong Demand for Luxury Cars in China
According to TheDrive, China was the strongest single market for the Porsche brand in 2015 to 2016. In a year on year basis, the sales of the brand rose up to 12 percent. The vehicles delivered by the brand to customers numbered up to 65,246. So far, the automaker seems to be carrying over its momentum this year.
From a market data, it was recorded that luxury SUVs and sedans have huge following from wealthy Chinese consumers. The sports car line does not enjoy the same level of demand but Porsche remained popular, especially for younger buyers. Among the company's best-sellers were the Macan, Panamera and 911 units.
The Panamera Executive was showcased by Porsche during the event together with the 911 GTS and 911 GT3 models, which are the two more popular products of Porsche in China last year. The said cars saw an 11% spike in sales from 2015 to 2016.
5 Models to Choose From
Porsche revealed all five new long wheelbase models in Shanghai. These include the Panamera 4 Executive, Panamera 4S Executive, Panamera Turbo Executive, Panamera 4S E-Hybrid Executive, and Panamera Turbo S E-Hybrid Executive.
Drivetrain
The Panamera Executive has a rear-wheel drive system. The lineup is highlighted by the Porsche Panamera Turbo S E-Hybrid. The car is powered by a 3.0-liter turbo V6 engine. The unit is capable of producing a 330 hp output.