Previewing The 2017 Volkswagen Touareg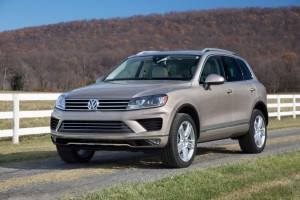 Volkswagen just announced a series of updates for the 2017 edition of the Touareg SUV. The big differences can be seen in the interior details since the V6-powered midsize SUV will unfortunately remain unchanged mechanically at least.
It is renamed the Wolfsburg Edition, and includes a variety of upgrades, according to a report. The mid-level Lux trim level includes these features for 2017: a new brushed aluminum trim inside, stainless steel for the door entry sills and pedals, black headliner, standard heated and ventilated front seats, choice of all-black interior or two-tone Vienna leather seating, and contrast stitching on floor mats, steering wheel and shifter.
A Wolfsburg Edition badge is, of course, also included in the update.
For the wheels, Volkswagen Touareg Wolfsburg Edition buyers can opt between the 20-inch "Tarragona" alloy wheels with a diamond-turned finish or the 20-inch "Mallory" wheels finished in all black. In terms of trim level, another one exists just below the Wolfsburg Edition—the Sport with Technology Package trim level.
For the 2017 model, the Sport with Technology Package trim level includes the following: adaptive cruise control, a lane change assist system, forward collision warning with automatic braking, park distance control, and a heated steering wheel.
If you want something more from the mid-size SUV, you can splurge on the Executive trim level, which, above all of the mentioned upgrades, adds 21-inch alloy wheels.
However, if you're expecting some upgrades under the hood, you'll be sorely disappointed as the 2017 Touareg will share the same powertrain as its predecessor. All Touaregs will remain powered by a 3.6-liter V6 engine that produces 280 horsepower, and is paired with an 8-speed automatic transmission.
For now, Volkswagen has yet to release details and pricing for the 2017 Touareg, so you have to check back for that. No images have also been revealed, unfortunately, so we have to be contented with some classic renderings.