Starting Price Of Tesla Model X Dropped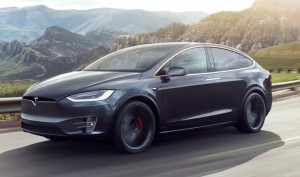 The Tesla Model X 75D luxury electric sport-utility vehicle will now have a starting price of $79,500, which is $3,000 less than the original price. The move comes on the heels of the launch of the new Tesla Model 3, which will have a starting price of $35,000, the most affordable in Tesla's lineup of electric vehicles.
Analysts predicted and even feared that the introduction of the Model 3 to the market will significantly affect the sales of Model X as customers will now want to settle for the cheaper sedan than the luxury SUV. But Tesla CEO Elon Musk was quick to shrug off the speculations. He said that the demand for Model X has not waned and that there is still very much a market for a $79,500 electric SUV.
Musk said that the Model X had a low gross margin when it was launched. However, as the company achieved fuel efficiencies, they decided to lower the price and pass that value to the customers.
The demand for Model X and the Model S has actually increased, the Tesla CEO added amid fears that the Model 3 will isolate the other vehicles in Tesla's electronic range. The Model X's most expensive variant, the P100D, costs $145,000. It has the fastest acceleration among Tesla's models and also has a longer range.
The Model 3 is being marketed as an electronic car for the masses. With a starting price of $35,000, this is easily accessible for those who want to be environment conscious. However, there are still plans for a longer range model that will be priced at $44,000. This model will compete with luxury sedans such as Audi A4, BMW 3 Series, and the Mercedes C-Class.
Although Tesla is adamant that Model 3 did not affect the other vehicles in its lineup, overall gross margins excluding stock-based compensation and revenue from zero-emission vehicle credits decreased to 25 percent in the second quarter from 26.4 percent during the same period last year.