Pricing for the 2019 BMW X5 Announced, Starts At $61K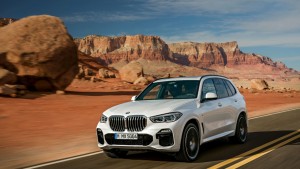 BMW finally announced the prices for its new luxury crossover SUV, the 2019 X5. The new BMW X5 is available in just two models—the xDrive40i ($61,695) and the xDrive50i ($76,745). The starting price is an increase from the outgoing 2018 BMW X5.
The lineup of the crossover has also been slimmed down. The 2018 lineup used to have a two-wheel drive, a diesel, and hybrid models. However, the 2019 lineup offers none of the said options.
Instead, the xDrive40i gets a six-cylinder engine while the xDrive50i is powered by a V8 engine. The xDrive40i gets a slightly higher price increase. It's priced $1,200 more than the cheapest all-wheel-drive model, the xDrive35i. But compared with the even cheaper rear-wheel-drive sDrive35i, the difference is $1,500.
On the other hand, the xDrive50i saw a higher price increase from the previous model. The difference is $1,700. Don't fret, though, since the two new models are more powerful and perform better than their predecessors. That more than makes up for the price increase.
The 2019 xDrive40i makes an extra 35 horsepower, pushing the total to 335 ponies. It also produces 330 pound-feet of torque. The xDrive50i, meanwhile, gets 456 horses from last year's 450.
Both models will get ZF's eight-speed automatic transmission. They'll also be packed with the xLine specification, which includes Dynamic Damper Control, two 12.3″ screens, adaptive LED headlights, and safety assists such as blind spot detection and frontal collision warning. There's also the city driving assist system aptly called the City Collision Mitigation.
The xDrive40i and the xDrive50i are both configured for towing. They have the hauling power of a 6,600-pound trailer and there's an available option of tow hitch rated for 7,200 pounds. There's another option—an off-road package that includes air suspension and mechanical locking rear differential.
Buyers may also get the performance-oriented M Sport package, remote starting, BMW's Laserlights with a heated steering wheel, and heated and cooled cupholders.
The 2019 BMW X5 will be available in dealerships starting on November 10 this year.