Pricing of 2020 Ford Mustang GT500 Revealed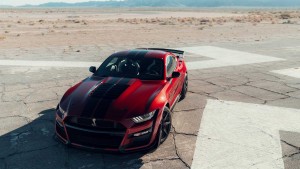 The 2020 Ford Mustang GT500 is priced at $70,300, which Ford North America Product Communications Manager Mike Levine said is a "terrific value" for a car with much power.
In an auto industry where brands waged wars against one another over increasing horsepower requirements and pulling prices down, the GT500 stood out as a lone wolf. On Twitter, Levine said that a GT500 owner spends $92.50 per pony. That's assuming you'll get the most basic GT500 with its 760 horsepower output from the supercharged 5.2-liter V8 engine that powers it.
Levine went on to say that it's more practical to get the GT500 over the Toyota Corolla, which costs $140 per horsepower. Of course, what the Ford executive didn't mention is the slew of taxes and other fees that will bring the starting price of $70,300 to near $100,000.
A visit to Mustang6g.com will show how this price could balloon. There's a $1,095 destination fee and a $2,600 gas guzzler tax for vehicles who did not meet the required Environmental Protection Agency (EPA) estimated fuel-economy ratings.
That alone puts the starting price at $73,995. And that's not taking into account that regular road course drivers would opt for the Carbon Fiber Track Pack that includes carbon wheels and huge race car-derived rear wing. That can set you back by $18,500.
The Handling Package, which has additional aero elements and adjustable suspension bits, costs $1,500. And if you're particular about the seats, the leather-trimmed Recaros are priced at an additional $1,595.
If you want to customize your GT500 from the outside, you can do so with the Triple-coat Twister Orange paint for $495. You can make Ford paint the roof black for $1,000 and another $1,000 is required for over-the-top full racing stripes in vinyl. If you want the stripes in paint, that'll cost you $10,000.
For the tech-savvy customers, you'll want to hand over another $3,000 for an upgraded stereo, power driver seat, and super cool puddle lights which project the iconic Shelby Cobra.
Add these all up and the cost of the GT500 climbed up to $100,000, which if you divide by the 760 horsepower it makes, costs $131 per pony.