Production of Toyota Camry Starts in U.S.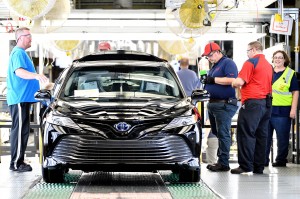 The new Toyota Camry is ready to go on sale in the United States by summer. As of June 28, the first batch of the car already rolled out from the company's production line in Georgetown, Kentucky.
According to Motortrend, the company used $1.33 billion for the assembly of the Camry under the Toyota New Global Architecture or TNGA. The architecture allows the automaker to reduce production costs by about 20 percent. The Camry is the first car of the brand to utilize the platform and technology provided by the TNGA.
The report said that Toyota hired additional 700 employees in line with the production of the Camry. The Kentucky plant has already produced more than 11 million vehicles, including 8 million Camrys. It is presently the largest plant of Toyota in the world. The facility builds the Camry, Camry Hybrid, Avalon, Avalon Hybrid, and the entry-level luxury car model, the Lexus ES 350.
The new Camry carries a 2018 model year. It was revealed at the 2017 Detroit Motor Show. The vehicle offers a facelifted exterior with bolder design coupled with lower center of gravity, quieter interior, more rigid body, more advanced safety features, new tech and more powerful gas engines. The petrol-fed models of the car is matched with the new eight-speed transmission of the automaker while its hybrid class gets a Continuously Variable Transmission or CVT.
The source noted that the Camry is the second best-selling model of Toyota in the U.S. during the first half of the year. The RAV4 is currently the brand's most in demand passenger vehicle in the country.
As of the May data of the company, 147,434 Camrys were sold going back to the beginning of 2017. It's a pretty decent figure but the report pointed out that the numbers are down by 12 percent compared to the record reflected during the same period of last year.