Range-Topping Tesla Model 3 Is Now Standard With Performance Package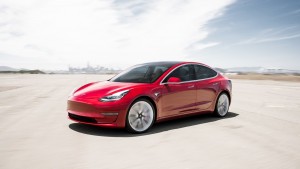 For Tesla, if you want the Performance Package, you would have to pay about $5,000 more. The fee will get you some really cool features such as a carbon-fiber spoiler, a 310-mile estimated range, and 20-inch alloys on Michelin Pilot Sport 4S tires. But the electric-vehicle producer is now offering the $5,000 Performance Package as standard to the range-topping Tesla Model 3 without any increase in the base price.
Tesla has been known to change, mostly increase, its prices from time to time. This time though, the change is good because the Performance Upgrade option will now be added to the most expensive trim in the Model 3 lineup—the Dual Motor Performance. The package comes with an all-wheel-drive system and has a 310-mile estimated range. The starting price for the top-range trim is $65,200 even after the $5,000 upgrade.
It also includes a carbon-fiber spoiler, aluminum pedals, lowered suspension, new 20-inch alloys on Michelin Pilot Sport 4S tires, upgraded brakes, and a 10-mph increase in its top speed. This boost will allow the range-topping Tesla Model 3 to hit 155 mph.
However, many Tesla Model 3 owners have already paid the $5,000 fee so this news doesn't really sit well with them. After they complained to Elon Musk on Twitter, the controversial Tesla CEO agreed to refund the $5,000 fee or the disgruntled customers can choose for free Supercharging for the entirety of the ownership. It's a pretty sweet deal so all you Tesla Model 3 owners who shelled out $5,000 for the package can now proceed to dealerships and get more value for your money.
A couple of months ago, Tesla offered free "unlimited" Supercharging to current Model 3 Performance owners. They can also gift new buyers the same benefit under the company's referral scheme. The program ended in September so the Model 3 is no longer being offered with the free Supercharging.