Renault Twingo Iconic Tops The Renault Range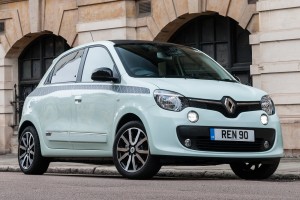 We still don't have the Renault Sport version of the Renault Twingo. For now, what Renault has given us is the "Iconic" special edition that sits atop the French automaker's Twingo range.
The "Iconic" special addition gets more equipment over more speed, sadly, though those who want more tech will be happy to know that basically all of Renault's equipment and technology have been thrown in the Iconic.
There's a lot of upgrades both inside and out. It's a fairly comprehensive upgrade, anyways, which will only cost about £14,595 for Twingo owners. On the outside, you can choose a unique "mint green" paint and some decals that will make your Twingo stand out from the rest of the pack. The interior, on the other hand, added DAB, heated seat, and satellite navigation, among others.
There are other notable upgrades, of course, such as the fabric-folding sunroof and the automatic headlights and wipers. The headlights and wipers add a touch of elegance to an otherwise very "basic-looking" car. It makes you feel like you're inside a more high-tech car interior.
For the comfort of the driver and the passengers, Renault also upgraded the seats with crosshatched half-leather upholstery that pairs well with the heated door mists, which helps in getting rid of the pesky early-morning condensation.
When you pay for this as a package, you'll get a £740 savings. The kit is definitely cheaper than buying a separate lower model with the package as an option.
However, despite having the kit, you'll still get the very unusual rear-engine and rear-wheel drive setup, as well as the 0.9-liter 3-cylinder that were fitted in the other Twingos. It's the perfect city car because it's still good for 90bhp and can go 0 to 60mph in just 10.8 seconds. It's safe for the environment, too, having been rated with a 100g/kg of CO2 and 65.7mpg.