Rolls-Royce Cullinan To Debut On May 10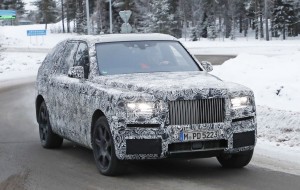 The Rolls Cullinan, Rolls-Royce's very first foray into the SUV land, will make its debut on May 10. The Rolls-Royce Cullinan is said to be the most luxurious SUV in the world once it makes its debut.
The announcement from the luxury carmaker did not include details about the SUV, but we've already speculated largely about the SUV ever since we saw leaked test vehicles and prototypes for the model. We don't expect a revolutionary design for the Cullinan. Remember that this is Rolls-Royce we're talking about. They live for the elegance of the classics.
Design-wise, the Cullinan will likely resemble the company's latest limousine, including the prominent grille, the rectangular headlamps, and the vertical taillights. It will also have a tall beltline and rear-hinged rear doors. The Cullinan, based on test photos, has a long roof and boxy rear section, making it seem that the Rolls-Royce is taking the old school route by fitting the SUV with a massive trunk.
The Cullinan's cabin is almost identical to the new Phantom VIII. Expect the same massive dashboard with the big infotainment display in the middle, a wide and tall center console, and big A/C vents atop the controls in the center stack. It's safe to say that the Cullinan's cabin will be the most luxurious on the market, and it will compete with the Bentayga in terms of features, technology, and appointments.
All over the Cullinan's interior, you'll be treated like royalty, thanks to the premium leather upholstery and genuine wood trim. All of these colors and features will be customizable and Rolls-Royce's Bespoke division will enable owners to configure the SUV to their specifications that they like.
Power will come from a twin-turbo, 6.75-liter V-12 from the Phantom, producing more than 550 horsepower. The engine is paired with automatic transmission.
Expect the price to be somewhere in the range of £200,000 ($271,886) and up.