Rolls-Royce Wraith Black Badge Edition Announced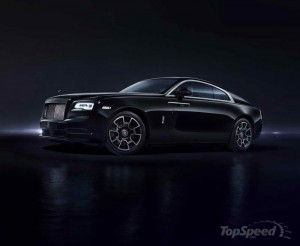 Rolls-Royce brought the Wraith back to life back in 2013, and it was like awakening a sleeping monster. It was the most powerful in Rolls-Royce's company, and spawned a couple of off-models such as the 2016 Rolls-Royce Wraith Sport, the 2015 Rolls-Royce Wraith "Inspired by Fashion," the 2016 Rolls-Royce Wraith "Palm Edition 999" by Masonry, and others to show off how well received the Wraith is.
It hasn't gone under change in the past years, and Rolls-Royce didn't make any attempt at changing it for this year, too, except that it announced a new "Dark" approach named the Black Badge.
The "Dark" approach was something a lot of manufacturers have been gotten into these past years, but Rolls-Royce did more than just adding a darker appearance to its version. The first thing you'll notice, of course, is the custom black paint and darkened trim elements. Mind you, each of the deep layer of black paint and lacquer was hand polished, making it the "deepest, darkest and most intense black" seen on a Rolls-Royce.
The front grille is surrounded by a darkened chrome trim, as well as the "flying lady" emblem on the hood. The darker treatment can also be seen on the emblems on the grille, fenders and rear deck.
In terms of exterior, the best change comes in the form of the composite carbon fiber, lightweight alloy wheels that are exclusive only to the Wraith and Ghost Black Badge Editions. The wheels, created in four years, feature 22 layers of carbon fiber laid in three axes before being folded over to create a total of 44 layers.
Looking at it more closely, it also has an updated drivetrain. The horsepower remains unchanged at 632, but the torque is increased by 51 pound-feet to 641 pound-feet. It also has a redesigned air suspension, new drive shafts, and an upgraded eight-speed transmission.
Rolls-Royce has yet to release the pricing for the Wraith Black Badge, but the 2016 Wraith started at $304,250, so expect it to come somewhere in the $350,000 range.
Source: TopSpeed